My first job had me working at KB Toys at the mall for the fall and winter. At that age, I was required to take a 15-minute break, so I roamed the mall, usually making my way to Hot Topic, where I got my first taste of the Goth culture (back when Hot Topic primarily sold goth & punk couture). I met Jeremy, one of the managers, this way.

After a few flirtatious weeks, he asked my age. "16," I replied.
"Oh," he said.
"And you?"
"36."
"Oh."
Disappointment all around - our age gap was far too wide to pursue anything, and we stopped flirting after that. He ended up falling for my sister, too, who got a job at his store. She pulled strings to get work at 15, and boy, was he upset when he found out her age. She looks much older.



Skip ahead to a New Year's Eve party that same year, now 17. Teenagers are all raunchy jokes and innuendos, and of course, I joined in, even though I had no idea what I was talking about, just following suit. Good times!

But being all talk gets you into trouble sometimes. Somehow, I'd innuendo'd my way into getting this gross guy to start makin' eyes at me, all half-open and droopy - the "I'm trying to look sultry, but just look boozy" look that so many of us have tried to pull off for a camera, especially wasted. But we weren't drunk! We were all goody-two-shoes teenagers. We were all all talk!

So this guy asked me to go outside with him and I had no idea what he wanted to talk about, and it turned out he didn't want to talk at all, because the next thing I knew, he'd planted his sopping wet mouth all over mine. I felt nauseated and violated, and everyone saw us from the window, and knew I couldn't just erase the moment.

And I'd never dated anyone for real, and I felt pressured to become a "couple" by the whole party. And I felt angry, so I kissed him again and again, punishing myself with every peck, for letting this happen to myself, feeling infested by the drool of this mouth-breather. And over the weekend, I hatched a plan to not be his girlfriend anymore in three days. It only took two.

I made up elaborate stories about all these boys I hang out with on a regular basis. That's why I could never go and do things with him at any of the times he suggested. "Oh man, I fell asleep over at [guy]'s house last night, and that's why I'm wearing the same outfit as yesterday." But of course, I said we were just friends.

I let jealousy do the rest, and by Wednesday, I could put it all behind me and move on. Thankfully, everyone forgot about it, as people tend to do in their teens. Hell, I don't even remember the kid's name.



Now back to the mall job, nearly a year later, a few weeks shy of my 18th birthday. I'd since switched jobs to what became my longest-running and all-time favourite retail job, working at Walden Books. This bookstore changed my life. I wouldn't be who I am now if it weren't for the people I met working there. But that's another story.

Jeremy no longer worked at Hot Topic, but a very cute boy named Charles did (for those who know me, this is not the same Charles I'm with now). And that's a story for another time, too. Jeremy moved to Buffalo, I'd heard. He worked as a manager at another store in another mall, and occasionally needed to visit the branch here. Cue the walk-in.

We had a sweet exchange before he asked me to go for a quick walk with him. I looked to my co-worker Bill, and he waved me on. We talked for a little bit before he sweetly asked me if he could kiss me. I said yes with a blush.

It was perfect. And the entire world melted away.



Skip to a week and some lovey-dovey long-distance calls later, and he's asked me to move to Buffalo to be with him! "Come again?" Does he really think a teenager is going to drop everything to move out to Buffalo and live with him after only one week of some calls? I uncomfortably admitted that I have no experience in dating or sex and am not ready for such a big leap.

Then he took a leap - DOWN MY THROAT. "What kind of guy do you think I am?!" I said he's probably like any other guy pushing 40 and asking a teenage girl to move in with him after just one week. I'm not that naiive, and I won't be pressured into things like this anymore. And that's the last I heard of him, except seeing his psychotic rants on LiveJournal. Dodgedthat bullet.

I managed to keep my composure this time. I didn't go off to self-destruct. I actually felt proud. I stood up for myself. And I never regretted that kiss. Because that's what I always wanted for my first kiss.
I'm self-destructive. When something upsetting happens to me, I end up destroying myself, be it eating my feelings, sleeping around, or throwing away anything creative I spent months working on. I won't get into the unmentionably horrid things thrust upon me as a child. I'm skipping ahead to a certain kiss.
I found a couple of scraps of paper with little snips written on them about some men I knew.)

1. He hugged me in the doorway. I don't remember a hug I'd ever had that way - full and warm and deep. "You know you can talk to me about anything," he said. "I don't want you to be sad."

I'd never had a moment like that in my whole life. I had no idea how desperately I needed it. And i hoped my mother overheard it in the next room. I hoped it destroyed her unwarranted ideas about him.

It took too many months to find out he'd said it just for that reason. He knew she didn't like him. And he manipulated a sweet fruit surrounding a bitter pit. I couldn't talk to anybody about anything.


2. He said he likes the kind of bag he has when he's coming off his meds. Because he can collect a lot of things he finds. He'll assign meaning to anything he finds lying around. A leaf or a cigarette butt or a book. And he'll keep it in his bag. He carries the weight of all these meanings in meaningless things. But t all has a shelf life, he says. It doesn't matter what happens to it once it's inside the bag. It was no great loss when someone dumped his bag to root up stuff they could steal. It was all just heavy junk. He only cared about bagging the meaning.
(
[Part of my "First Times" series. First draft.]

I've tried pot in as many forms as I can think (there are most likely more). I've decided I don't like it.

I had my first hit at an after-work party with a co-worker and a couple of my ex's friends. We watched DeGrassi and drank 40s we got from work before someone started packing a bowl. In my prime year of having real experiences, I decided to give it a try when the pipe got passed to me. They poked fun at me for not knowing how to do it, but after a quick lesson, I lit it up. Held the puff in my mouth instead of my lungs, which I assume is the rookie mistake responsible for a lot of people saying they experienced no effects on their first try. My only wonky feeling came from the booze.

I didn't think about my ex finding out through our friends, and turned red when he mentioned it to me, worried he'd be upset. He just laughed about it and poked me in the side. My ideas about the stigma of smoking pot began their dissent.

The next couple of times I tried, I succumbed to very unexpected sexual experiences, leading to my first threesome, and my first time giving head with someone else in the vicinity (Sam will never think of cooking a steak for her friends the same way again). But good or bad, I never would have done those things without the influence of weed, and I felt embarrassed that I allowed such things to happen. My first bong hit happened with a couple of gay guys, so I felt safer in that regard, but more silly - my arms got so long. I never noticed how long my arms were, and I marveled at them the whole night while they waxed on about electronic music.

I had two hits off a spliff years later, and I hated it. I'd taken an Adderall earlier in the day for the energy and concentration I needed to work on something, and in the middle of my project, my friend passed me a hand-rolled cigarette. It threw my concentration out the window and I felt sluggish and hungry. Gross.


Then I discovered hash.

My friend comes from a legal state and frequently dabs her stash during hangouts. She explained how wax hash is a totally different experience and so much better than the crap pot around these parts. I got curious, but her nectar-collector ritual seemed complex, involving a juggling act with a dabber, a thing made of a lot of glass, and a damn kitchen torch. She gave me a pen to puff instead. She explained it and I got it right the first time. It was a nice, mellow high, and lasted the perfect length of time. I still didn't care about being high, but at least I know that if I ever get bored enough, I can go for that and not feel too bad.

Naturally, I thought I'd be able to handle a hash brownie.

Wrong.

I mean... WRONG.

I had the tiniest thing - about the size of the ball of my thumb. It tasted great (because: chocolate brownie!) and I felt nothing for about 25 minutes.

Then it hit me. A full-bodied chemical feeling washed over me. I felt fine while we shopped around Walmart. Giddy and silly. We passed through the snack aisle and I picked up a package of double-stuff Oreos. We got in the car and drove around listening to music on full-blast. I started to dig into the Oreos.

After what seemed like an hour, I started feeling dizzy. I shoveled cookie after cookie into my mouth, thinking they can absorb the hash still in my stomach. I fought against closing my eyes - I don't even like closing my eyes in a car sober. But I needed to relax and let it just flow out of me. After another hour or so, I felt calmer and more straight, and I could almost look around without my eyes doing little jumps. I downed a few more cookies to counter the hash.

Then I got a second wave, much stronger than the first. I didn't know being high came in twos sometimes. It'd never happened to me before. My mind imagined it's because the brownie passed from my small intestine to the large, and that's why I got double-hit. I tried to keep my panic to myself, but I texted my boyfriend to come and get me. I wanted to go home. I felt queasy. I felt scared. I wanted it to be over, but hours and hours of driving around and scarfing cookies weren't helping.

My friend had two hand-sized brownies. How the hell did she feel fine?

We made it back to her place and I laid down on her big cozy chair and just looked at the ceiling while she did some dishes. I asked if she could make me some toast and she gave me three helpings. I texted Boyfriend again and noticed that all that time that passed took only an hour. I then imagined that if time slowed down so much, I must have inhaled those cookies at lightning speed. That's probably why my stomach hurt.

Boyfriend arrived and they talked in the kitchen for a while. They asked me if the music was bothering me. I didn't even hear it. At one point, I managed to get up and join them in the kitchen in search of more food for the absorption process. I saw brownies in the fridge and almost went for one before they stopped me. They also explained that absorption by food isn't a thing. It doesn't work the same as booze. That made me feel sad, because time went too slowly.

I don't remember the ride home, but I do remember throwing on one of my favourite musicals (The Devil's Carnival) and letting it lull me to sleep.

I spent the next day in a haze of sadness and tears because I couldn't handle a tiny brownie and I wasted good hash on a bad experience. Plus we were supposed to hang out and watch movies all night, instead of me bailing and going home.

Now that I've tried it, I can say I'm not doing that ever again. I'd like to think I'd be open for other drug-related experiences, but to be honest, I'm not that interested. And I'm sworn off this particular substance for good.
Gonna try to spend this month writing a couple more First Time stories.
27) Tell us anything about asexuality that you want to end with.
This entire comic, which explains asexuality better than I ever could...
Followed by a video from Stuff Mom Never Told You.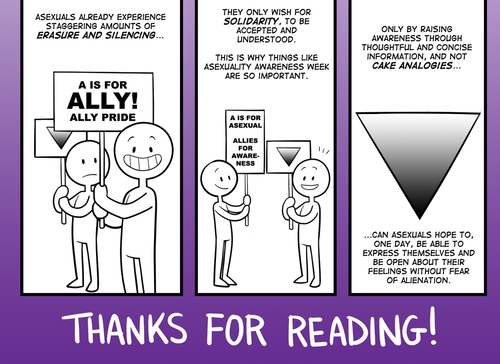 22) What is your favourite asexual pride image?

24) What is the worst argument you've heard against asexuality?
25) Who is your biggest ally?

I don't know what causes asexuality any more than I know what causes hetero/homo/bi/pan sexualities. I don't believe sexuality is something you're born with. When you're born, all you want is to poop and eat and play with shiny fluffy things. Then you get old enough to want to learn to communicate with the bigger humans. Then maybe you want to practice what you learn on other humans your own size. Then you learn who you like and who you don't. Then you learn about romantic feelings. Maybe you just like the opposite sex for a while (maybe your upbringing was heteronormative and you don't know so early that you have more options). Maybe you like more and more people in later years. Maybe not. About 99% of the time, your romantic orientation will match your sexual orientation when the time comes that you might feel sexual attraction. Only one percent of people say they're asexual. If you're asexual and aromantic, well, that's also a match. But there are plenty of asexuals who are romantically attracted to others.

Doesn't mean you're broken. But sometimes I wonder if, for some people, it does. I don't think my asexuality is related to any trauma I've endured in my childhood, but I can't help but wonder if it's related. I also feel like my 3rd relationship, being forced into sex, did break me. But then again, I wonder if I was asexual before, and that's why I didn't want to have sex anymore, and thus getting forced into it. I don't know if that makes sense... It definitely doesn't look like what I'm trying to say.

Deep down, though, I don't think any of my sexual trauma has anything to do with my asexuality. I feel like myself, having admitted it, and I feel like this huge weight has been lifted.

Now I'm just bombarded by sex everywhere, which, to be honest, is probably due to the fact that it's around Valentine's Day, and the sexy-time-related valentines are all around. It's like, if you're not getting laid, you're some kind of freak. Total bullshit, but that's just the kind of message I feel like I'm getting with all this crap. It does make me feel broken sometimes. I hate feeling broken. There are people who think there's no such things as adults in relationships who don't have sex (or don't want to have sex). It brings me down, but as long as I have people I can trust, who don't make my sexuality part of their business, I think I'm good. And my biggest ally is my boyfriend.
21) What do you believe causes asexuality?
14) Your favourite asexual character/celebrity/person.
15) Your favourite "asexual" book (as in, sex/romance not the main focus)
16) Your favourite "asexual" movie
17) Tell us a funny joke about asexuality.
20) Your favourite asexual quote
23) Write something or post a picture about asexuality that upsets you.
I've never thought about my favourite asexual anythings before, because sexual and romantic orientation aren't really what entices me to like or dislike something. I do find it refreshing to see that sex is
not
a driving force in plot or character, though. It's hard to think of things that fit the bill.
I don't have a favourite asexual website, because, well, I don't really know what I would do on one. I like when I come across stuff that's relevant to me on my tumblr dash or Facebook feed, but I'm not actively seeking it out. I don't know why I'd go to a specifically asexual site. I welcome answers, there.
Despite sexuality not being important to me, I do think it's important to show a wide variety of sexualities and romantic orientations in the media, so I tend to like characters who relate to me (without being annoying about it, because, like lovey-dovey and "does this shock you" hetero couples, gay couples can get that obnoxious too - everyone can get obnoxious - it's why people are bastards). People like Bob Belcher (from Bob's Burgers) who are bi (maybe pan) in a committed hetero relationship are my people, because even though their bi-ness is erased by their current relationship status, it still peeks out on occasion. Some other characters call him straight, and he doesn't correct them - some people think this is bisexual erasure - well, the relationship he's in, and the fact that he doesn't bring it up because that's just not practical for the type of show it is, are the reasons for the erasure. If it were me, I wouldn't correct it either, because A) it's none of their business, B) it's not that important that they get it right, C) especially when it's not obvious - I am in a hetero relationship, too and D) I don't think it's shameful to be assumed straight.
I don't know if I would consider Daria asexual, since it's pretty hard to determine high schoolers' orientations unless they
make
it obvious. But I feel like she's a good ace icon anyway, even if she's not actually ace - at one point, she asked Jane if she could ever picture her making out with anybody,
ever
. Then, after a season and a movie of dating Tom, she considered having sex with him, because of the social expectations, and the pressure to please him (though he himself wasn't pressuring her). She couldn't go through with it and fled, because she just wasn't ready, and assumed standing up Tom because she didn't want to have sex meant an inevitable breakup. The difference between asexuality and abstinence is choice (even if some asexuals choose to have sex to either please their partner or take care of their own physio-biological needs, with their partner). With the way her character is written, it's hard to tell by the end of the show whether she's abstaining until she's ready, or whether she won't ever get to the point of wanting that level of physical intimacy. She's obviously romantically interested in guys, but what's important is that she's a character who doesn't only stand against social norms, even with facing the pressures of teenhood, but in later seasons, deliberately abstains from sex. It's hard to find characters like that.
This week, one of my first favourite comic book characters, Jughead, was officially outted as being asexual. It seemed really obvious, being that he's almost never shown interest in a girl, except in some weird spinoff comics. Turns out, a lot of other people assumed this about him too. Chip Zdarsky / Steve Murray & Erica Henderson's Jughead series made it canon as Kevin, Riverdale's first (out) gay character mentions it in conversation, confirmed by Jug. The whole issue is great, because it establishes a lot about him (that was obvious before, but just confirmed officially now) - that he is asexual, aromantic, and doesn't like to be touched. As Chip explained, he thinks it's important to actually establish this, and to dispel any assumptions that maybe he's just developmentally behind everyone else. He's been portrayed as asexual before they had a word for it (in his earliest portrayal, people assumed he was a misogynist who just downright hated girls, when in fact, he just sees his friends become all screw-loose over their hormones - who wants that mess?!).
I even wrote a Jughead mary-sue when I was a kid. It portrayed me and Jug becoming best buddies who played video games together, where everyone assumed we were a couple, and we just laughed about it and corrected them. Hey, Chip! Make it happen! Jughead needs a lady buddy he can connect with!
I don't know if the Jughead comics can count as an asexual book. He's just the main character. His best friends are into romance and dating (I don't know if Kevin and Archie are into sex - like I said before, it's hard to gauge in high school stories where sex isn't the focus). There are plenty of books where sex/romance aren't the focus, but I wouldn't deem them asexual books, especially if the characters aren't ace or non-descript, which seems often the case.
Currently, the most popular pop-culture asexual icons we have right now, though, are The Doctor (I haven't watched Doctor Who recently, so I am pretty unaware of him as an asexual icon), and Sheldon Cooper from the Big Bang Theory. While that show as a whole is not that funny, I admire its attempt to bring low-level and minimal geekery to the mainstream (while I hate many
many
other aspects). One thing I really love is the great development of Sheldon, the asexual character. It's not really unknown that he's asexual (in fact, they once joked, upon being asked of his "deal," that were he ever to spawn, it would probably be asexually). I enjoyed that he started dating Amy, another seemingly asexual character, who is not actually asexual, as she very much wants to experience sex with Sheldon. Her character develops to show this budding characteristic nicely. (SPOILER ALERT) When they do finally have sex, it was because Sheldon wanted to please her this way. (note: I haven't watched further than this episode yet, so I'm now going on speculation) It didn't "cure" him of asexuality or change that about him. He said he would do it again on her birthday next year. For her. As asexuals sometimes do for their partners, he is satisfying her desire because he loves her. He enjoyed it, too. Asexuals, I would hope, wouldn't do it if they don't enjoy the act - we
can
be stimulated to arousal.
I do like stories where there isn't sex/romance in the stories, though. Like any other media without those themes, it's refreshing. But I can't really pick a favourite. Miyazaki has perfected the art of non-romantic stories, though. His stories tend to feature both male and female leads, and the stories aren't about romance or ending up together in the end, but about driving each other's lives - that's a rare kind of friendship because in the media, guys and girls can almost never be
just close friends
. In fact, he said one of my favourite quotes:
"I've become skeptical of the unwritten rule that just because a boy and girl appear in the same feature, a romance must ensue. Rather, I want to portray a slightly different relationship, one where the two mutually inspire each other to live - if I'm able to, then perhaps I'll be closer to portraying a true expression of love."
And let's see... an asexuality joke? Honestly, asexuality, celibacy, and abstinence feel like social jokes to me, but not the funny kind. At least they do on Valentine's Day. Now, don't get me wrong. I don't care either way about V-Day. But man, some single guys. It's like that day is their fucking doom if they don't have a date. Like, seriously? I hang out with my friends on V-day (this year, I hung out with family). But all the most popular valentines on feeds are sexually driven (of course, the
very best
are Halloween driven). The holiday is about being with people you love. If that means your friends, family, or pets, THERE YA GO. It's not about who you get to kiss, hold hands with, or fuck. It's really insulting to feel like being in a relationship means you must be having sex. And being in a relationship means your partner is going to be your valentine companion. And that not being with your partner on V-day is a terrible thing (seriously, I'm with him every other day of the year). Why is Valentine's Day the due date for having a date? Because you see valentines in the feeds and on TV? How do you think it feels for people who don't have mothers and fathers on Mother's Day and Father's Day (and we don't
hate
those days)? And that's permanent. The hate people have for V-Day is abysmal. It's totally unnecessary. It makes me feel like having a girlfriend/boyfriend is a commodity, like people are prizes. And I'll bet they'd be disappointed in finding out the date they
might
get is ace.
12) Your favourite asexual tumblr site, website.

18) What do relationships mean to you?
19) Tell us about your partner(s). If you are not in a relationship, tell us about your best friend.
26) Where did you first learn about asexuality?

I only have a couple of asexual friends. I have two who I know are ace. And I didn't understand asexuality when I met the first one. To be honest, that may be the first time I ever heard about it. I'm not sure if she explained it, or explained it well (she is really shy, and just getting a conversation going in any direction is difficult. I wanted to understand, but I remember her saying at one point that she doesn't like having to explain it all the time to people, so I didn't press on. Her sexuality didn't change the way I feel about her. My other asexual friend is pretty open about it, and totally willing to discuss and debunk.

I've met them both in person, one lives in my area (we get together for coffee a few times a year), and the other I only met once, she lives far away so we pretty much only interact via Facebook.

I'm not a hundred percent sure on their romantic orientation (not that it makes a difference to me either), but I know one has said she is aromantic (I think she is in want of a partner, too, and I understand asexual & aromantic, but I don't understand being both and having a need to find a partner... I don't have a full understanding of aromantic...ism? I guess). The other has (or maybe had) a boyfriend, which I thought was interesting, since, being new to figuring this shit out (new, being the past few years, slowly), I thought it wasn't much of a possibility, because of how sex is so rampant in society (and guys, you know? I've never met an asexual guy before - I know abstinent and celibate guys, but not asexual, to my knowledge).

I think that's great, though. Since coming out to my boyfriend and having it turn out that he's perfectly fine with staying with me (and wants to!), I've realized it is totally possible!

I've always valued friendships more than relationships. I love my friends, and I so very rarely find a friend who likes me as much as I like them. When there's an imbalance like that, things get tricky, and sad. But I have one friend who I think feels for me the way I do for her, so I think I'll be okay. I hope. Anyway, my friends are my world.

That's why I considered breaking up with my partner for the longest time. To release him from my lack of desire to have sex with him. To just be friends, because it doesn't feel like an obligation to have sex with friends. He's such a great and understanding guy - my lifeline! And I was ready to dump him because I thought it wasn't fair for him. Because I'd been trained to think sex is a payment or part of the package.

Thank goodness that idea was debunked! I feel infinitely better since coming out to him.

I guess if it didn't work out with coming out to him, then it wouldn't work out between us. I think your partner has to be your best friend, or one of your best friends, and if he couldn't take that kind of news about who I am, then I guess that would seal it.
13) Tell us about a time you met another asexual, whether in real life or online.


I've officially come out to two people. The third person (technically the second, if you want to go chronologically) didn't hear, and I didn't bring it up again. A former fling, and my current boyfriend, with opposite results. I already wrote about my fling and his reaction, and I don't feel like writing more about it. That isn't the point of this particular entry. Because this particular entry is all about my suddenly amazing boyfriend.

I came out to my boyfriend LAST NIGHT, and it went ten thousand times better than I ever could have imagined it'd go. I had all these fears and anxieties about it. But he just looked at me and said, "well, obviously. I pretty much knew already!"

We're a little over 2 years since we last had sex, and it was really infrequent before then. Mostly, I wondered if he thought something bad had (recently) happened to me, or if I was having an affair with my best friend who had dumped me really hard and really suddenly (that's pretty much the same time when the gates really came down, and I became less touchy-feely as well).

I also wondered (and sorta hoped*) if he thought it was something he did or said or something. I honestly thought for a while that it was him. He's chained to his family, and his devotion to them has ruined a lot of plans for us, even if it was just spending quality time with each other. I felt cast aside all the time. For a very long time, that's what I thought was making me not want to have sex with him. I even tried breaking up with him a few times (*here's what I meant by 'sorta hoped'). I entertained the idea of seeing other people in a sort of open relationship, but he wasn't really interested. I told him I wasn't satisfied in the relationship anymore and wanted to see other people. I entertained that notion for a while, but the more I thought on it, the more I realized I'm still not satisfied. It's not them, it's me. I'm not sexually satisfied with other people. My appetite is only triggered by stimuli and not so much desire.

So I came out to my boyfriend over dinner at a Chinese buffet. I started rambling and I don't even remember what I started talking about, but it was all in the same breath and I just slipped in, "Chumbles, I'm about to come out of the closet to you about something; is that okay?" He blinked a few times, and I got nervous, and I said it, and he responded as above. I ran over to the other side of the booth to give him a big long hug, and teared up a little.

All these things came spilling out between us, about the wondering, about the decisions and thought processes, about sex and my specific feelings that I'm coming to terms with... it was actually pretty great.

I told him that I enjoyed most of the sex I've had in the past. I even went from partner to partner (god, not all of them), telling him how I felt about them- how I was fine with my first two boyfriends, and then how the third one was horrible and may be what broke me. I said of all the sex I had after the one that broke me, I felt for most of them, even though a lot of it was self-hate sex. I felt great about maybe 3 partners after. I dished about how A. (a cross-dresser) loved to dress like a woman, complete with fake boobs, and how that really satisfied my bi-ness. I didn't go into specifics about Paul (who I believe to be my soulmate, who died), but I mentioned him. I really dished about R (my BF's musical rival) being the freakiest and goofiest partner I ever had - we only dated for a week, and I gushed out about how fun and funny it was, and that we still goof around with each other over text (sending absolutely hideous faces back and forth, shots of each other pooping, etc)... I realized I was gushing and toned it down a bit. But he admired how I was able to experience a connection like that.

I told him about how having sex was okay, it's just that it's so messy - and explained how I meant it's physically messy, and that it, for some reason, really sickens me, and I feel really gross afterward (but not mentally dirty). I said masturbation was less messy - not totally, but better than person-on-person. We talked about how I liked it when we did do it. "We had a lot of sex at the beginning-" And me, being an ass, and feeling infinitely more relaxed about all this, held up my hand and said "yeah we did! Woo!" and we high-five'd. He said it was nice, but not something he really is gonna miss anyway. He says we're busy with our own creative endeavors anyway, and that's a much more important thing to have on our minds.

We talked about all the ways I thought he might take it: Would he be upset or disappointed to know that he's not going to have sex with me again? Was he patiently waiting for me to come around again, and now it turns out he's waiting around for nothing? Will he dump me and move on (though I honestly would feel like if that ever happened, I'd be okay with it, especially now, feeling like we would still be friends). I even told him I was still planning on dumping him eventually, just to let him go and move on to someone who would sleep with him (I'm not planning that anymore). Would he say something asinine from the (previously linked) Asexual Discrimination Bingo board? Would he be abrasive and bombard me with questions?

He's lived asexually before, not really being interested in seeking out a partner just for sex, or a partner at all - he'd lived a 12-year dry streak before me, and it didn't bother him. He takes care of himself when he needs to. He said because he's easily managed before, he's okay living as an asexual couple. I said I wasn't sure if he's asexual, and he agreed. Abstaining is more the word he's looking for, for himself.

But he was so amazing about it. He said he's really happy I can be comfortable doing (or not doing) what I want with my body, and that sex is just one small facet of our whole relationship and just does not matter, and his heart is with me.

I really feel better about it.
11) If you're out, talk about the most accepting person you've come out to. If you're not out, talk about what you would hope a coming out experience would be like.
10) What have other people said about your asexuality?
As stated before, I consider myself a little more "gray-sexual" than asexual, but since writing this, and since coming out to the most important person currently in my life, I have decided that I don't have to call myself graysexual just because I get urges sometimes. Sexual needs do arise, but I'm not fond of sex
with other people
. It took me a while to come to terms with my sexuality because of the fact that I have had
a lot
of sex in the past, and I do still masturbate. The graysexual label felt like a savior when I was first trying to figure it out, because I felt like I was in that gray area.
I'm not willing to have sex with anyone else anymore since finally coming out to my partner, and my masturbation is only hormonal - I don't get turned on by outside influences, but by my biological clock. My boyfriend was surprised by my answer of how often I take care of myself - maybe once every couple of months. "Dusty!" he said, with surprise. "Cobwebs," I replied with a wink. I didn't realize that level of sexual activity (or inactivity) was so surprising. I kinda felt like it was a lot (maybe not
a lot
a lot, but you know, frequent enough). I have a cyst on one ovary that makes for painful ovulation every other month (in case you didn't know, they take turns releasing eggs). The other month is all "
I gotta have a baby
!" Not every time, but most. Sometimes it hits me out of nowhere and I can't focus on anything unless I take care of myself first.
I'm afraid people would think I'm weird for not wanting to have sex, but maybe just saying, "think of the times you're not in the mood, but not for any bad reason - I feel like that all the time" might be a viable answer when asked what's wrong with me. Nothing's actually wrong with me, though. I felt like there was at first, but not so much anymore.
After going most of my life with endometriosis (google it if you don't know), and suffering depression for literally as long as I can remember, things started to change - I broke out of my depression (that's a whole other bundle of discussion, but wow, I didn't realize there even
could
be a break-out from depression's grip). But I also experienced wilder mood swings, specifically, the week before, during, and after my period. And I mean, crying, screaming, and misinterpreting all kinds of social situations. I felt like I was going crazy. I talked to someone about it, and she helped me figure out what's going on - I was experiencing an
estrogen dominance
. She told me that she was going so nuts for years that she
became
asexual, which was corrected by hormone therapy. This was back before I started really thinking about it, but over 2 years after I stopped having sex with my partner. I thought maybe that's what was wrong with me. I felt weird about trying to "correct" it, but it was worth a shot, if only to get my craziness in check. And several months later, I felt normal again. Hell, after just one month, I felt immensely better! I had to give up soy products (Vegan just got a whole world harder), but it was worth it.
What didn't change was my sex drive. I still didn't have one, and in fact, I feel like I have
less
of a sex drive than before - I haven't taken care of myself in quite a few months, and don't feel the urge even coming on. When I realized my sex drive took a dive lower than I knew existed, that's when I started to reflect.
I struggled with telling anyone. People I cherish, people I trust... I felt like I couldn't really tell any of them, especially after telling one person, after feeling attacked by the abrasive manner in which he asked seemingly basic questions. I was afraid. I was afraid to tell my boyfriend, because I didn't want him to react the same way. I didn't want to disappoint him - telling him he's never getting laid by me again, even though I have expressed that I'd be okay with him finding sex with someone else or just moving on and having us be just friends...
I'm still afraid to tell my friends. I'm afraid... but I'm going to do it anyway. I set up a filter on my FB lists that includes almost everyone. I didn't include most exes, and some people I've already told, some people I'm not ready to tell (like my boss and some co-workers), and people who I think would be jerks or give me a hard time. My plan is to finish these questions and then share the whole journal. Damn, I'm gonna have a book by the time I'm done, aren't I?
9) What does being asexual mean to you?